INO Measure Co., Ltd có khả năng tư vấn mua sắm, sử dụng, lắp đặt và cung cấp các thiết bị đo lường và tự động hoá. Nếu bạn có nhu cầu mua sắm hoặc cần sự hỗ trợ về kỹ thuật cho một thiết bị không được liệt kê ở đây, xin vui lòng liên hệ với chúng tôi.
Lưu ý: Tham khảo ý kiến của nhân viên INO sẽ giúp bạn tiết kiệm được thời gian và chi phí khi cần mua sắm. ​​Với sự tư vấn của chúng tôi, bạn sẽ không gặp khó khăn khi tìm hiểu về đặc tính của sản phẩm cần mua.
Overview
The AFE200 offers a number of advantages:
"Clean Power" thanks to the unit power factor and reduced harmonic distortion (<5%)
Enhanced system dynamics during drive and regeneration
Considerable energy savings during regeneration transients
Improved stability of the DC Bus circuit under load changes
Significant cost-effectiveness with the single power supply system
Elimination of uneconomical conventional braking systems and braking resistors
The AFE200 range has power ratings of 22kW to 1.65MW for three-phase power supplies of 400VAC to 690VAC.
Ease of use and intuitive programming make it possible for users of any level to exploit the high-level performance of Active Front End technology for a broad range of applications where there is a need for real energy saving.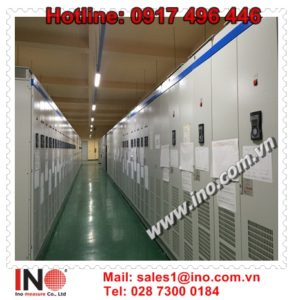 Options
LCL filter (mandatory)
Pre-load kit, includes resistor and 2 pre-load contactors (mandatory)
External EMI mains filter
Download tài liệu: Tại đây
► Các câu hỏi, thắc mắc, thông tin liên quan đến sản phẩm từ khâu mua sắm, lựa chọn, sử dụng, cài đặt hay thay thế, vui lòng liên hệ với INO team để được hỗ trợ và tư vấn kịp thời.
► Công ty Giải pháp và Công nghệ Đo lường INO, nhà cung cấp các thiết bị đo lường và tự động hóa công nghiệp
►Web: www.ino.com.vn  |  Mail: info@ino.com.vn
►INO Sales: 028 73000184  |  Hotline: 0917 496 446
►Website: http://www.ino.com.vn
Các models: